青山 琴葉
Aoyama Kotoha
Statistics
Birthday
March 11th
Sign
Pisces
Seiyū
Natsumi Hioka
Debut
A relaxed girl who constantly plays video games, despite not being very good at them.
Personality
Kotoha("Koto-chan") is a caring, loving, and a gamer. She loves playing video games all the time. She can be serious sometimes but other times she loves to hang out with her friends. She's also smart at winning the game. She does love to wear her favorite hats all the time. Her only special and secret ability is her smart thinking in a hard game.
Appearance
Kotoha has long blue hair which is tied into a little ponytail at it's very end. She has many outfits, but the color blue appear in most of them.
Outfits
Outfit 1
Kotoha wears a pale blue dress with blue lining on the bottom and the sleeves. She wears black leggings and white shoes. She has a black over the shoulder handbag with white fabric. She wears a white hat with dark blue ears attached.
Outfit 2
She wears a pale pink dress with white pattern pockets. Her sleeves are white and she has a white bow tie ribbon on her collar. She wears blue shoes and carries a pink over the shoulder hand bag. She wears the same hat in outfit 1.
Outfit 3
She wears a blue dress with a blue pocket on the left. There's a white bow attached to the pocket and there's white fabrics on her front chest collar. She wears brown sandals with an orange bow on them. She has an over the shoulder hand bag with a white strap and she wears a tan hat with a peach bow.
Outfit 4
She wears a pale blue dress with a white lining, buttons in the middle and a black bow. She wears black shoes with white lining. She has a brown over the shoulder hand bag and wears a pale tan hat.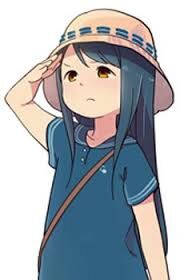 Trivia
She seem to own a blue "Nintendo 3DS" type of handheld console. She is shown taking photos with it.
She brings up pretty morbid ideas and solutions to some riddles.
Despite playing video games all the time, she is not very good at them.
Whenever she tries to hide her laughter or other feelings, she covers all her face with her palms or her game console.
Whenever she claims to solve a riddle she does a variation of a dab with her face facing up and saying "Game Clear"(ゲームクリア)
She goes to the same school as Sat-chan
She's the blue member
Her last name, Aoyama, was revealed in chapter 52.
Community content is available under
CC-BY-SA
unless otherwise noted.